Issue 9, Year IX, November' 2017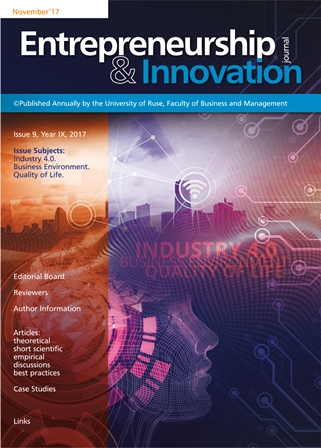 Content, Issue 9
Marina Sheresheva, Ivan Semenda. Prospects of VR/ AR Technologies in the Experience Economy
Theoretical
Svetlana Dunaeva. Relationship Marketing of Logistics Companies in the Digital Economy
Short scientific
Lilyana Ivanova Sirakova.
Approaches to Assess the Performance of Marketing Activity
Antonia Nikolova Lazarova. Design Types for Consumers Researches Using Parametric and Non-Parametric Statistical Tests
Vesela Mihova. Decision Trees as a Business Online Advertising Strategy Optimization Tool
Empirical
Adetona Adekunle Moruff, Adeoye Abayomi Olarewaju, Elegunde Ayobami Folarin. Small Business Enterprises (SBEs) Survival and the Moderating Role of Financial Management Practices: Evidence from Lagos State, Nigeria
Viktoriya Ivanova, Galina Zaharieva. Impact of the Program Cross-border Cooperation Romania-Bulgaria 2007-2013 on the Economic Development of Euroregion Ruse-Giurgiu
Stella Toyosi Durowoju, Rihanat Olasumbo Olateju. An Evaluation of Job Stress on Employee Performance: A Study of Lagos State University
Discussions
Ivaylo Yosifov. Development Risk Defence under Article 7 (E) of the Product Liability Directive – The Inevitable Clash of Negligence and Strict Liability Theories
Daniel Pavlov, Marina Sheresheva, Michelle Perello. The Intergenerational Small Family Enterprises as Strategic Entities for the Future of the European Civilization – a Point of View
Best practices
Diana Avramova. Public-private Partnership in the Example of TITAN ltd.
Case Studies
Svilen Kunev, Irina Kostadinova. Study Case in Social Responsibility: Bio Food "Harmonica"